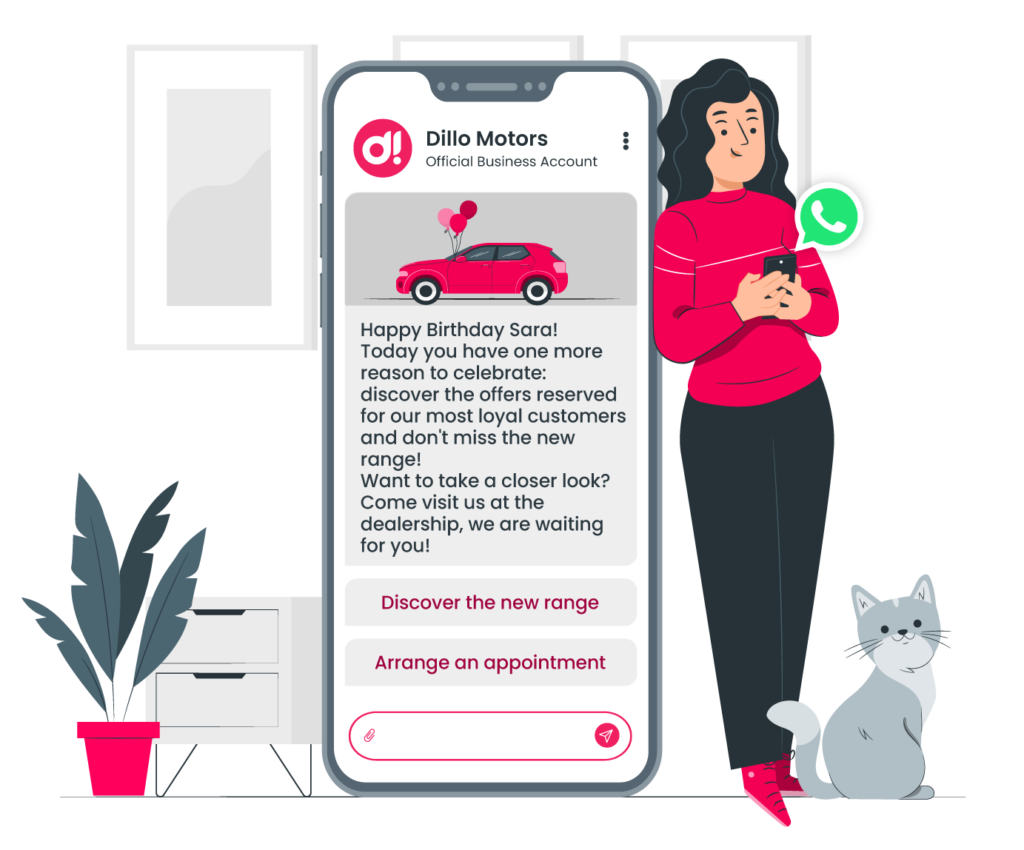 Whatsapp Business API with Dillo
With Dillo's Whatsapp Business API you can elevate your customer care and reach all your customers on the world's most popular messaging channel.
What is Dillo Whatsapp Business API?
WhatsApp Business API is a programming tool that allows you to connect WhatsApp to other applications. 
The Whatsapp Business API give your business the ability to access Whatsapp's code to increase its functionality and enhance certain features based on your specific needs. With this solution you can, for example, integrate Whatsapp into customer service and CRM systems dedicated to sales, create chatbots and automated responses, and automate sending transactional notifications.
Why Dillo Whatsapp Business API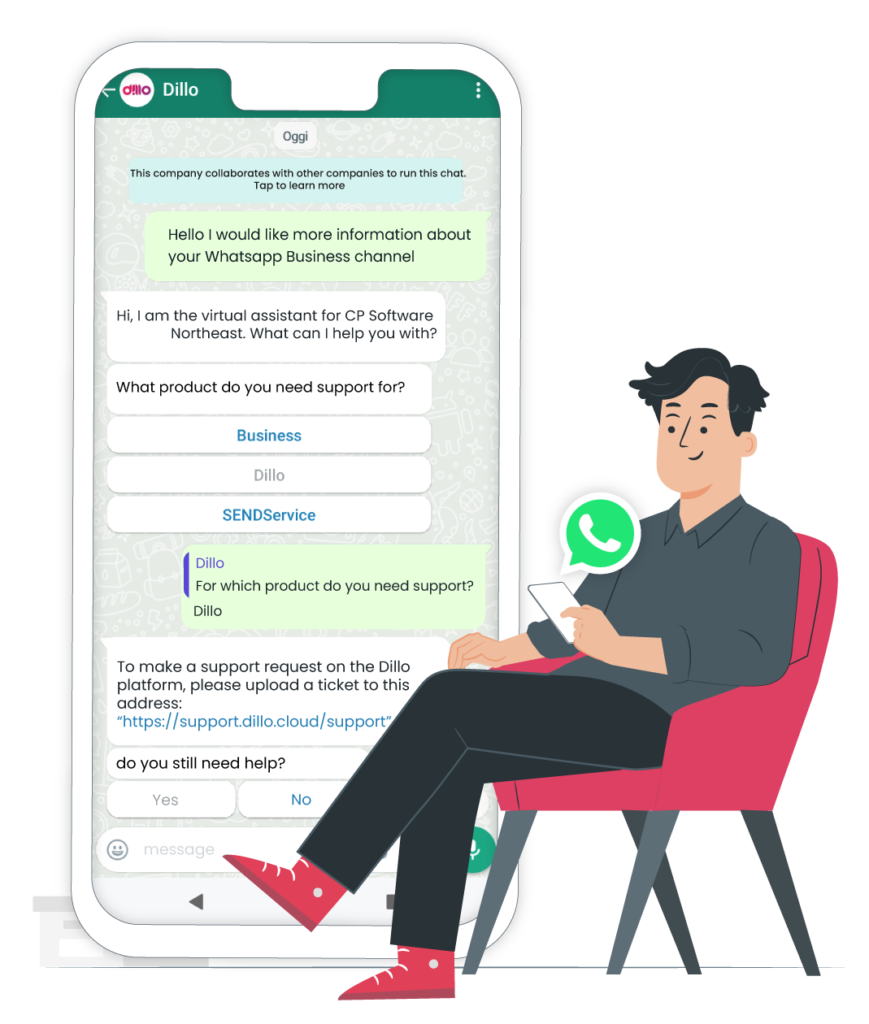 The vast majority of people use messaging applications on a daily basis, several times a day… since it is already part of their habits, Whatsapp therefore represents the most convenient channel for your audience to get in touch with your company.
The open rate of Whatsapp messages is unparalleled, we are talking about 98%. In addition, the interaction rate is also very high, over 60%. This allows you to establish a direct and long-lasting communication channel with your customers.
Instant messaging allows both you and the customer to communicate quickly; this is precisely why you can respond efficiently and conveniently to your contacts' concerns and requests, taking your customer service to another level and increasing your conversion rate as well as customer satisfaction.
Do you want to discover the benefits of Conversational Artificial Intelligence integrated into Whatsapp?
qui sotto per fissare una demo gratuita con un esperto
Compila il form con i tuoi dati direttamente tramite il nostro chatbot, sarai ricontattato al più presto da un membro del nostro team; non preoccuparti: la demo è gratuita e senza impegno! 
Fill out the form with your details, you will be contacted soon by a member of our team; don't worry: the demo is free and without obligation!
Use Whatsapp Business API to:
With WhatsApp's built-in delivery and read notifications system, you can be assured that your important messages have been received.
● Receive read confirmation when you send travel updates.
● Notifies your customers immediately in case of exceptional closures of your business.
● Detect and report security breaches in a timely manner.
● Ensure that users receive account updates.
Establish quick and instant connections with your customers to provide them with more positive experiences.
● Keep your customers updated on the status of their account.
● Respond promptly to questions regarding orders.
● Provide clear and concise FAQ (frequently asked questions) information.
● Update customers on changes to contract terms or company policies.
Leverage the combination of WhatsApp Business Platform with email marketing and send engaging content to increase conversion rates.
● Use both platforms to promote promotional sales and draw customers' attention to special offers.
● Leverage WhatsApp and email to launch new products, providing interesting details and piquing the interest of potential buyers.
● Drive traffic to your website using both WhatsApp and email, provide direct links to relevant pages, and encourage users to explore further.
Use WhatsApp Business to send reminders to your customers, keeping them updated and helping them remember important appointments.
● Send an order confirmation via WhatsApp to confirm purchase details.
● Keep customers informed of updates regarding the delivery of their orders.
● Send appointment reminders via WhatsApp to make sure customers don't forget them.
● Communicate any service interruptions to your customers in a timely manner through messages on WhatsApp.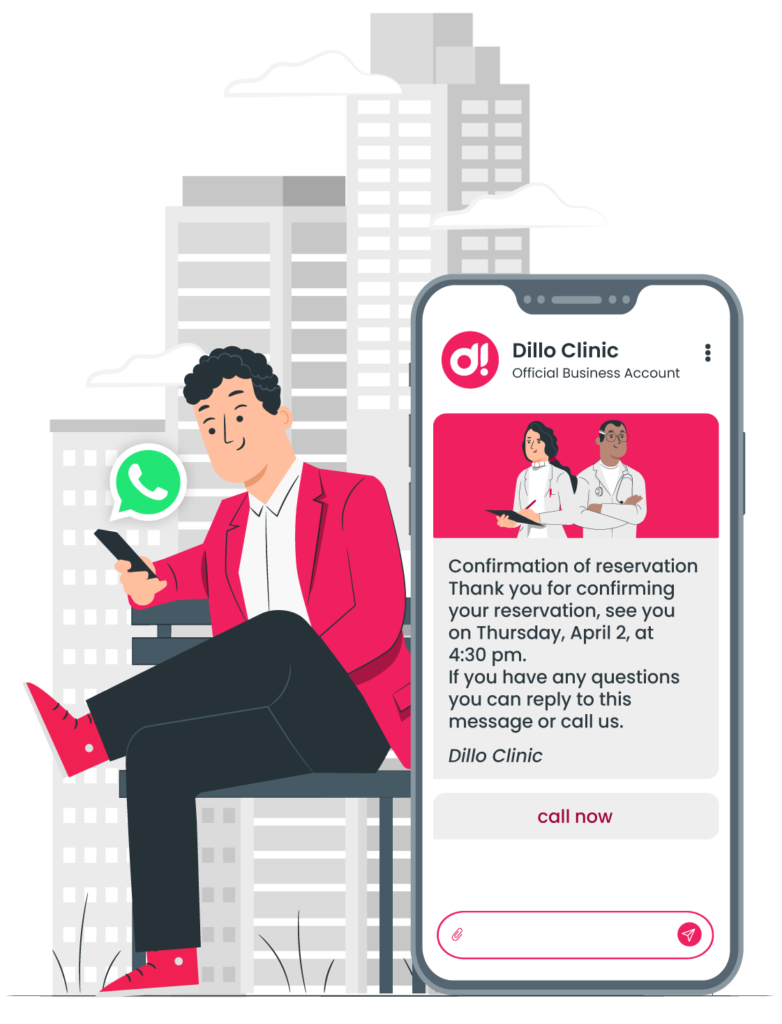 tasso di apertura dei messaggi Whatsapp
tasso di interazione senza pari
aumento delle vendite con Whatsapp
Features of Whatsapp Business API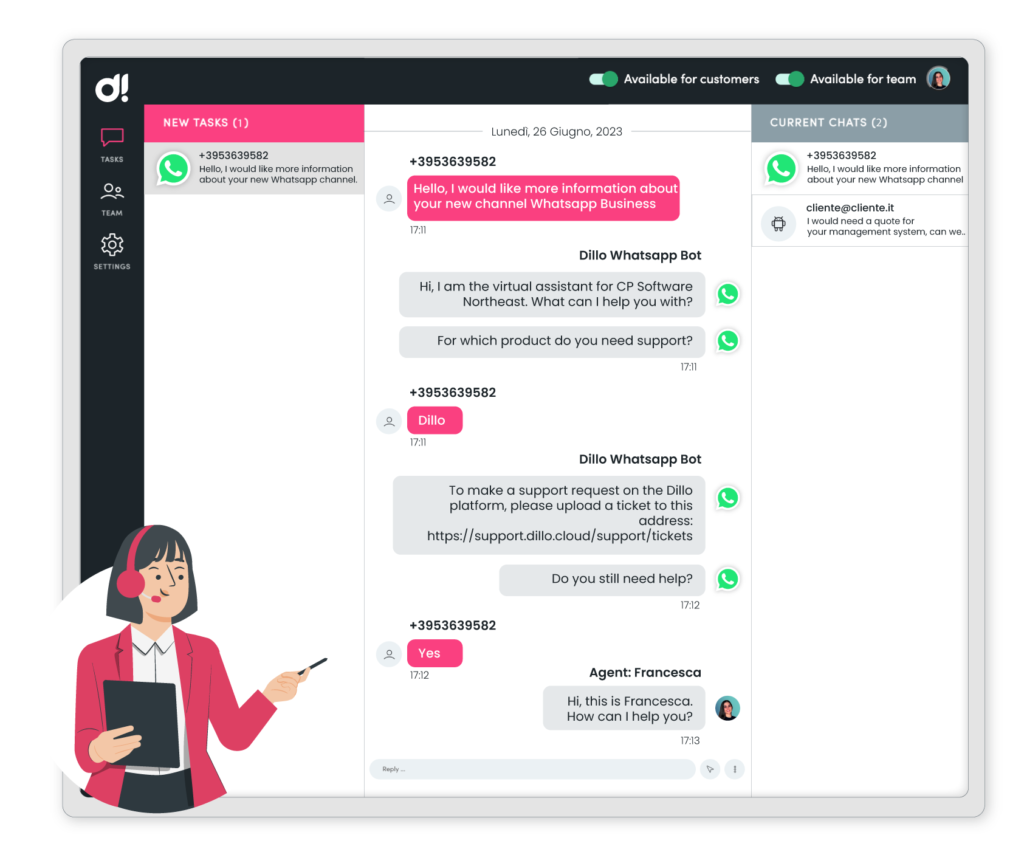 WhatsApp massive message sending
● Reach thousands of users simultaneously through a single operation.
● Exceed the number registration limit in the address book: with Dillo, your messages will reach all customers, even if your number is not saved
● Send notifications, promotional and transactional messages.
Launch promotional campaigns
● Create and schedule promotional campaigns on Whatsapp, upload the customer list to be reached and the relevant message
● Monitor and improve campaign performance with reports
● Send your promotional message to thousands of contacts simultaneously with unparalleled delivery and open rates
Chat with Live Agent via Whatsapp
● Access the dedicated interface of Dillo Live Agent and manage Whatsapp chats and all other communication channels simultaneously.
● Create automations that allow you to take direct control of the chat when the customer needs you
● Enter specific notes for individual users.